REHEARSALS RESUME
Rehearsals will resume on Thursday, January 13, 7:00 PM, 2nd Baptist Church, Ranking Ave., Mt. Holly, NC.
Now is the perfect time to consider joining an outstanding group of musicians.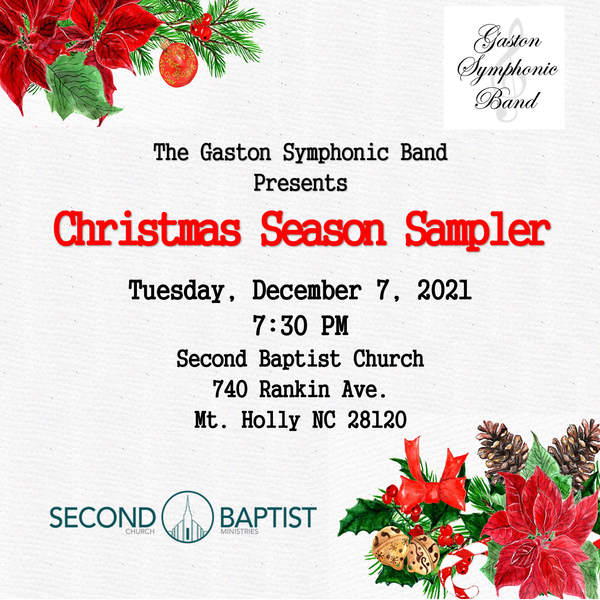 THE BAND IS BACK!!!
The Gaston Symphonic Band has resumed practice and are welcoming new members. While Covid protocols prevent us from using Grier Middle School, the Second Baptist Church of Mt. Holly has opened its doors to the band. Rehearsals resumed in October. Anyone seeking membership can email us at gsbsound@gmail.com.
Maestro John Gunter and the band's members have been working on a program of Christmas season favorites. This entertaining program of familiar tunes is sure to entertain everyone. Make plans to attend this concert on Tuesday, December 7, 2021, 7:30 PM. Second Baptist Church, 740 Rankin Ave., Mt. Holly, NC.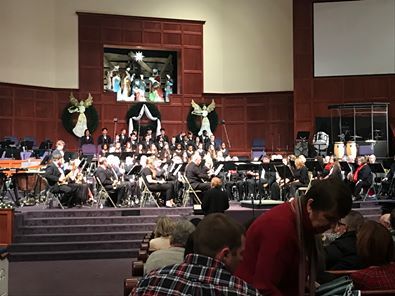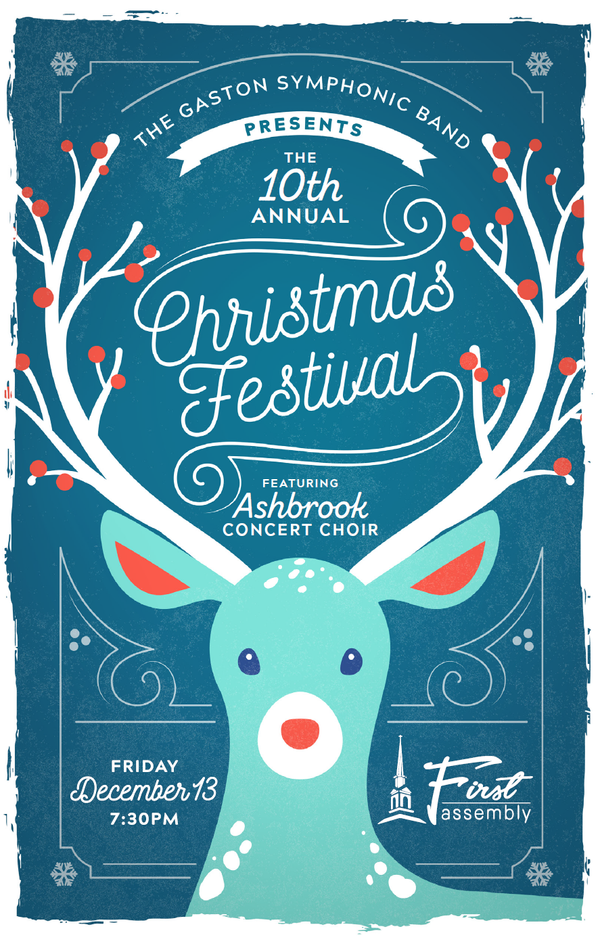 THANK YOU TO THE COMMUNITY RUN 2019
The Community Foundation of Gaston County sponsors the Community Run each year. This is a major fund raising activity for non-profits on Gaston County. This year the GSB received a total of $5,578.63. There are 28 donors who gave money to the GSB. The foundation matched these donations with an additional 37%. Many thanks to those who donated. We'll use your gift to make music once again for Gaston County.
2018-2019 WHAT A WONDERFUL YEAR FOR THE GSB
The Gaston Symphonic Band wishes to thank everyone who made our 2018-2019 season a success.
This year the band played Four major concerts... A SALUTE TO VETERANS, 9TH CHRISTMAS FESTIVAL, RHAPSODY IN BLUE and RIDING THE WAVE. We partnered with Charlotte's Northside Baptist Church, First Assembly Church, The Stardusters Big Band, Ms. Terry Vanzant, The Gaston County Schools, and Ashbrook High School's Wind Ensemble. Attendance at these four concerts was over 2,000 people.
The GSB was honored to play at the dedication of Cramerton's Veterans Memorial Plaza. The band helped bring in the Christmas Holidays in McAdenville and Gastonia. Our season ended on Memorial Day at the Gaston County Veteran's Memorial Service. Attendance at these events was in the thousands.
The band was ably led this year. Bill Todd, Jr. completed his second year as president of the board of directors. Under Bill's leadership the band has documented and formalized many procedures which will smooth operations in the future. Well done Bill. 
Musically, the GSB once again was led by John Gunter, Music Director and Conductor. His leadership and passion keep the band members on their toes. John has grown right along with the band. From playing Tuba over 10 year's ago, John became associate director and finally Music Director. 
Concert planning and preparation this season was in the able hands of Jim Coulson, Michael Bynum, Ben Reavis, Tom Balsom, John Bagwell, and Bob Lowder. These members handled all the details as producers of the concerts and events. Logistics for all events was in the able hands of Chris Ritch.
The GSB is fortunate to have many benefactors. Charitable Foundations, businesses, and individuals have donated the funds to keep the band making music. Thank you for your continued support. 
Most of all the GSB's success is due to the fifty or so members who volunteer their time and talent in order to provide high quality music to our community at no cost. These members gave more than 5,000 hours of their spare time and paid their own expenses in order to fulfill the mission of the GSB.
It's time for a well-earned summer break, but check back for upcoming plans for next  year.
WHAT FOLKS ARE SAYING ABOUT RHAPSODY...
"This is my first experience hearing the Gaston Symphonic Band. I was expecting a few instruments, but certainly not a stage full of dynamic, talented musicians! The Band was amazing and our friend, Terry Van Zant was brilliant! Thank you, Maestro John Gunter, Terry and The Gaston Symphonic Band for a wonderful, uplifting performance of much-loved music. It may have been my first time to hear these amazing musicians, but hopefully, not my last!? - Teresa Williams
"Such a great concert and such a nice surprise to watch and hear". Milette Acton Oden.
"Thanks to the band for a wonderful evening". We loved it, too!" - Jane Smith
"If you weren't there, you really missed out on a fantastic treat! Quite and enjoyable evening... free, I might add! The Gaston Symphonic Band NEVER disappoints!" - Barbara Warlick
"These musicians are such a great asset to the community! We were graced with an evening of outstanding music in a beautiful venue. Many thanks to Marc Stout and Gaston Christian for sharing this space to allow such a great talent to be shared with the community."  Richard Abernethy.
"Congrats, John! You guys brought your A game for this one!" - Jim Monroe
"The whole concert was amazing, thanks!" Susie Pons
"I was thrilled at hearing your Rhapsody in Blue performance, as I am with all of your numbers. Thank you." Peggy Gallen Tiddy